Mushroom Cowling (For Axial Fan)
We also produce a range of mushroom cowling of 6mm thickness or optional of 10 mm thickness, matching our range of axial fans, which are used in the marine environment. Basically, our cowlings are of two types, with damping or without damping. For, damping, we used a spindle with height adjustment to fully closed the opening between the fan and the cover plate. Explosion environment type of cowling are also available. Their dimensions and drawing will be available upon order of these mushrooms.
Electrical Control Panel
The control panel are of different applications:
For industrial, we can also built the fan starter panel upon client request.
For marine airconditioning applications, we will built the fan starter panel, AHU electrical panel and aircon plant control panel to match our design requirement for marine environment.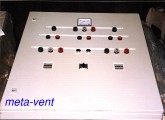 Meta-Vent Pte Ltd Tel: 65-63526273 or Fax: 65-63526687
Copyrights @Meta-Vent Pte Ltd. 2002, All rights reserved.