Engineering Services
Meta-vent also offer conveniences to our customer by assisting them in fan replacement works.
For instance, we replaced old double inlet double width centrifugal (DIDW) fan for our clients. (See Left Captioned Pictures) These fans are used in air handling unit, like TRANE, CARRIER, DAIKIN etc., We also replaced faulty motor for industrial belt driven centrifugal fan and balance the impeller and replacement of bearing block.
We could also offer design works for our client and supply and install ventilation ducting & fan systems for food courts & industrial application if required by our client.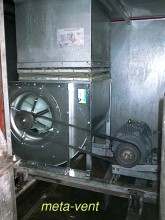 Meta-Vent Pte Ltd Tel: 65-63526273 or Fax: 65-63526687
Copyrights @Meta-Vent Pte Ltd. 2002, All rights reserved.